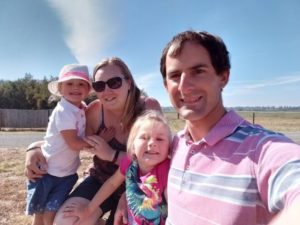 The Gooch Family
Greg and Charlotte Gooch, with their two children – Ava who is six and Beatrice who has just turned five – have recently moved over to worshipping in the Wilford Benefice. Charlotte is a licensed Children and Families Minister, and Greg is a recently licensed Lay Elder for the Wilford Benefice.
Greg regularly leads the Prayer and Praise service at St Felix' on the third Sunday of the month.
Greg and Charlotte will also be taking the family service at St Edmund's Church, Bromeswell, from September and are looking forward to meeting lots of new families.
From the first Saturday in October 2021, they are leading the group of volunteers in hosting Rendlesham's Messy Church sessions, which will be held every other month in the first instance.
If you would like to get in contact to introduce yourselves or ask any questions, please do send an email to Charlotte and Greg at goochfamily54@gmail.com. They will be very pleased to hear from you.