Dear Friends, Last month, I took some "Time Out" at one of my most favourite places in North Norfolk, the Shrine of Our Lady of Walsingham, for a little "R & R". It is an Anglican Shrine dedicated to Mary, the mother of Jesus in the small village of Little Walsingham, and set amongst a beautiful garden and grounds.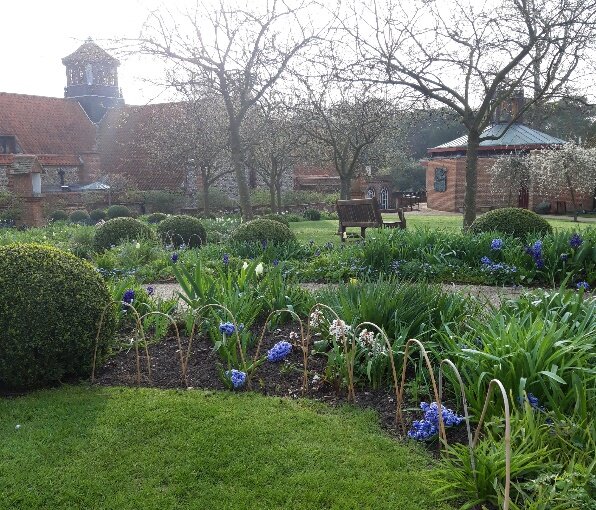 I was on a personal retreat, spending some time to refresh and reflect on my ministry here in Rendlesham and its surrounding churches. To take stock of what I want to try and achieve here in spreading the gospel and good news of Jesus, and how to go about it. It also gave me some breathing space to reflect on my family, spend some time on personal prayer, going on some long walks to "blow the cobwebs away", as my grandma used to say, and to read a good book. (I know.. a Jeffrey Archer novel might not be considered fine Spiritual reading but…!!)
The Shrine of our Lady of Walsingham was founded by the Lady Richeldis in the year 1601, following a vision which appeared to her of Mary, holding a replica of the house in Nazareth.
Richeldis built the church in honour of Mary and it became known to pilgrims as "Little Nazareth". The Shrine was destroyed by Henry VIII in 1538 during the reformation of the church. In 1922, the Revd Hope Patten rebuilt the church and Walsingham has since seen a steady stream of Pilgrims coming from all around the world to savour the peace and prayerfulness of this place.
King Solomon, who reigned around 970 BCE (before Christ) was a very wealthy and wise king of Israel who succeeded his father, David, (of David and Goliath fame and who wrote the much loved 23rd Psalm). It was Solomon who wrote the book of Ecclesiastes in the Old Testament of the Bible, was a seeker on a quest for the meaning and purpose of life. So he began to search for the meaning and purpose of life "under the sun".
Solomon wrote "There is a time for everything, and a season for every activity under the heavens: a time to plant, and a time to uproot, a time to build and a time to tear down, a time to weep and a time to laugh, a time to speak and a time to stay silent."
We all need a time for special purposes, and one of the most valuable is a time to take time for oneself, some quality "R & R", to reflect, to refresh, to treasure the moment we are in.
If you want to reflect on the value of time, I attach an article I found in another church magazine.
My prayer this month is that you may find some time to take time.
With love and blessings,
Rev Mandy Xx