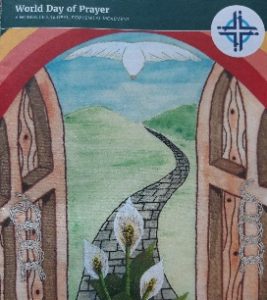 Held on the 1st Friday of March each year, the World Day of Prayer is a global ecumenical movement led by Christian women who welcome you to join in prayer and action for peace and justice.
The origins of World Day of Prayer date back to the 19th century when Christian women of United States and Canada initiated a variety of cooperative activities in support of women's involvement in mission at home and in other parts of the world.

The symbol for World Day of Prayer was developed by the women of Ireland and adopted as the international logo in 1982. Its design is made up of arrows converging from the four points of the compass, persons kneeling in prayer, the Celtic cross, and the circle, representing the world and our unity through all our diversity.
Over the years, the service has been produced by the women of Vanuatu, Columbia and Slovenia to name but a few, and this year, it is being produced by the women of England, Wales and Northern Ireland (Scotland has its own version) we were celebrating Hope. Especially poignant as we see the horrors unfolding in The Ukraine.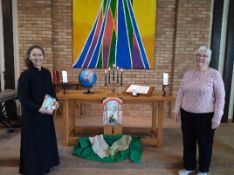 The service was led by Reader Janet Bishop and the display was put together by Gill Nicholls. It is very much an interactive service, and everyone who attended had a part to play.
Next year, the World Day of Prayer service will be produced by the women of Taiwan, and the theme will be Faith. Watch out or details and come and join us!
Rev Mandy Xx